War memorials in Brighton Township, Chippewa Township and Hopewell Township, Beaver County, Pennsylvania
The Memorials
Since 1776 many Americans have answered their call to duty by serving in the military protecting liberty. It is with this in mind that we wish to build a memorial not only for Dylan but for our other military service members in Beaver County who have also paid this high cost for freedom. There are many in Beaver County who have served or are presently serving.
Three memorials will be built to represent the places Dylan spent his childhood. In Brighton Twp., the memorial will be displayed at the Hardy Field flagpole. At Hopewell Twp, the memorial will be displayed at Hopewell Community Park. The Chippewa Twp. memorial location will be located at Veterans Park.
To honor our veterans and those presently serving, the patio portion of the memorials will have honor bricks with their names engraved on the bricks.  The memorials will also have a story board describing our struggle for freedom since 1776, depicting Beaver County's involvement in the fight for freedom.
These memorials will honor those who have paid the ultimate sacrifice. But they are also about us, the living. Their stories of duty, courage, sacrifice and love of country, remind us of what is good in ourselves.  It teaches our children what is great about America and fulfills the unwritten contract we citizens have with our military. If we send our military to foreign lands to defend us, and while defending us they die, we will honor them. They will not be forgotten.
The theme of the memorials is to connect the community to those who serve. Dylan's story could be about the boy next door, the person you went to school with, the mailman, the coach on the ball team. Our military service members are not some far away abstract, they are our family, friends, and neighbors.
These memorials will be more than names on a tablet. They will tell a story of a young boy with a dream of serving his beloved country. That boy became a man who chose to go to foreign places to defend our liberty, knowing full well he may die in doing so.  
These war memorials will be built in Brighton Township, Chippewa Township and Hopewell Township.  The funds needed to build the three memorials is $75,000. All money donated will be used for the memorials.  
During these difficult times of COVID-19 we have been able to raise over 60% of our $75,000 goal for the three memorials. Thank you to all of our generous donors.
Purchase Honor Bricks
Please join us to honor our veterans, those now serving and those who died for us.  The honor bricks we are selling can be purchased for any veteran, active duty, national guard, or reserve military service person.  The honor brick will be placed at the memorial of your choosing.  
Make a tribute to the military – Those who have no one to name for an honor brick can sponsor a tribute brick.  You can make up your own tribute message honoring those who serve.  Here are some examples:
Honor those who
serve, our heroes!
-Bill & Mary Smith
Courage and sacrifice
the cost of freedom
-Bill & Mary Smith
Never forget the cost
freedom is not free
-Bill & Mary Smith
The 4" x 8" honor brick will be engraved with up to three lines of text and twenty letters per line.  The 8" x 8" bricks will have six lines of text and twenty letters per line. If you wish to have symbols you must deduct four letters on the line that has a symbol.  All engravings are epoxy filled to prevent chipping and dirt from entering the engraving.
Honor your loved ones by purchasing a brick and help us fund these war memorials.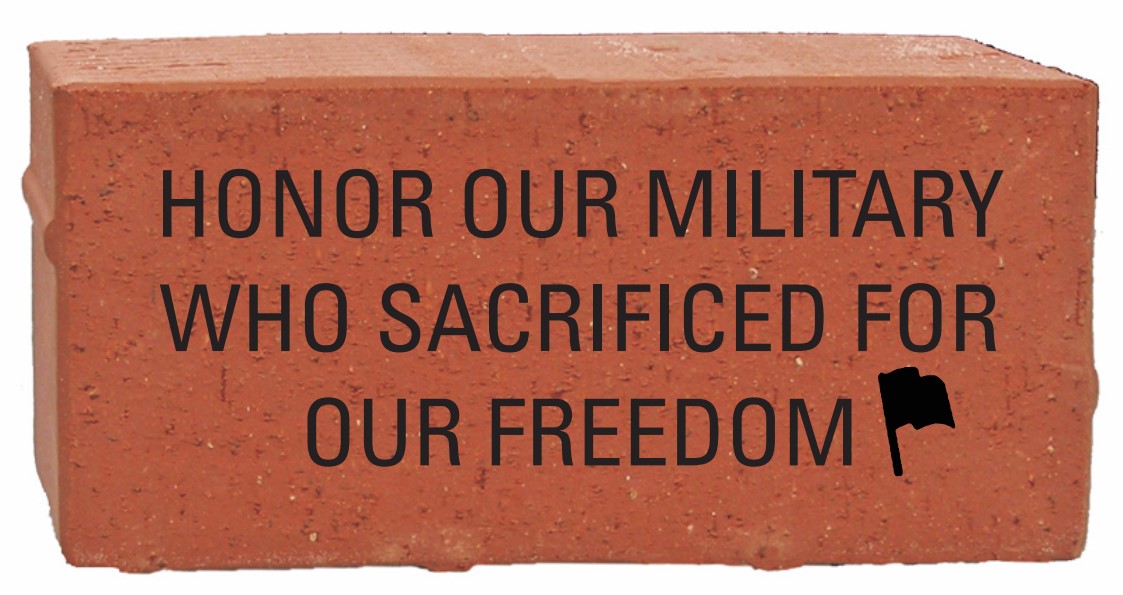 If you purchase more than one brick and wish to keep them in a family group, please call Ron after placing your order.
An anonymous donor from Beaver County is matching the next $16,000 worth of bricks.
When you purchase a brick, you will get a second identical brick free of charge at the location of your choosing.  Please choose a second location for your free brick by adding either Brighton, Chippewa, or Hopewell in the Notes section of the order form.